Dear Elijah Wood,
It was a pleasure to meet you last Monday.  In case I appeared overly apathetic, or even dismissive of your sudden appearance at our family photo session with the dynamic duo Jess and Brett of studio3z, I feel the need to confess that in reality, I'm a bit of a fan.
You see, Elijah Wood,  I'm a grown(ish) woman now and somewhere along the way have perhaps lost sight of the intense emotional torment that you caused me in my young lady days.  However, our meeting last week prompted me to venture out to my garage and dive into the old trunk 'o memories that faithfully protects the tangible bits and pieces of my simple childhood.  It didn't take me long to un-earth an unassuming manilla envelope with two words written on the front in a familiar  scrawl.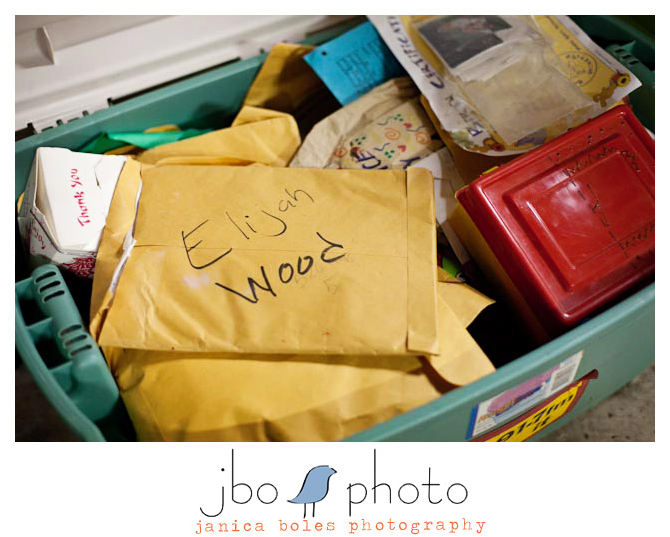 Jackpot.
A quick paw through the contents of that envelope rapidly reminded me that I was not a fan.  I was, in fact, a MEGA fan.  We're talking newspaper clippings, TV guide mentions, movie ticket stubs…  And the mortifying icing on the cake of Elijah Wood obsession?  Page after page of my 14-year-old musings, scribbled across graphing paper from my Algebra II binder.  In an attempt to salvage a sliver of my pride, I will not share the exact content of said writings, but I will say that they were peppered with such choice words as "ecstasy" , "desire" and my "surging heart".  I also may or may not have referred to you as a "dream that I will pursue eternally".
Ahem.
So you can see, Elijah Wood, (born in Cedar Rapids, Iowa on January 28, 1981 to Debra and Warren Wood) it was actually quite thrilling to meet you.  In fact, according to a piece of 1994 graphing paper, meeting you was what "my soul yearns for".
Yeah, I said it.
I am rather proud of myself for maintaining the utmost composure in your presence because as you can see, I was quite capable of going all crazy fan-girl on your ass.
High five,
JANICA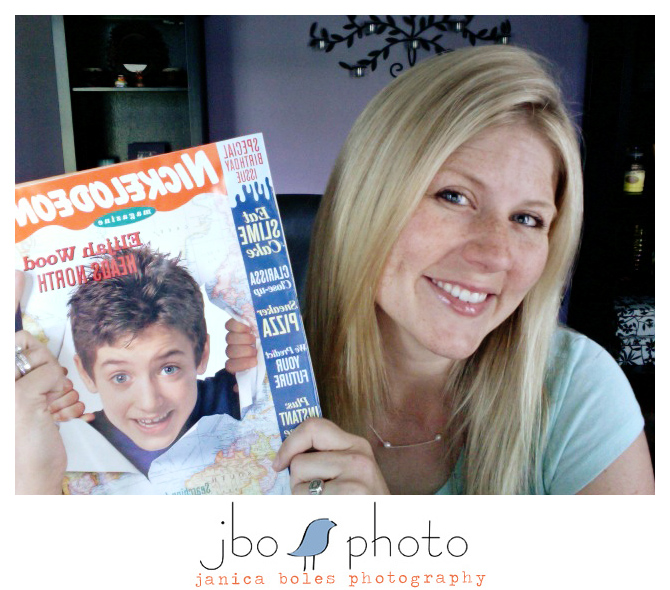 P.S.  I tried to explain your relevance to Parker and Bailey.  They remained thoroughly unimpressed by your lengthy resume', until I pulled up a certain clip on You Tube.  And now?  They are star struck…just like mom.

P.P.S.  If anyone knows a photographer who can get Meg Ryan to show up at a photo session, please let me know.  Then Matt and I can be even-steven.